New year! I'm a little (ok, 16 days) late on the Happy New Year wishings, but I'm used to being behind. Our Christmas was lovely. We had a nice little Christmas eve with my brother Mike & his wife Natalie. We spent most of Christmas day in Mendon with Cody's family, and we spent the rest of the week lounging and enjoying the aftermath.
Cody is an amazing shopper, and got me fantastic treats. He got a new
board
, and after riding it the first day, proclaimed it worthy. When I asked him how it was, he said "It rocked my face off!". Yay. Thanks must be given to Mike, who procured the board for me, and gave up riding it himself so that I could give it to Cody. You win Mike!
So now that I own some new material cutting tools (a quilters mat & rolly cutter thingy, and pinking shears!) you would think I've been all crafty lately, but I totally haven't. I got so stressed trying to get Christmas stuff ready that it zapped all crafty out of me. I did make a cute treat for my friend Dawn, but she hasn't gotten it yet, (I know, I'm late!) so I can't post pictures yet.
So, here is what is up with me, I am
currently
:
Loving
: Our neeeeeew coooowshes!! (
sneak peak of new throw pillows
)
Wanting
: These Keens!!!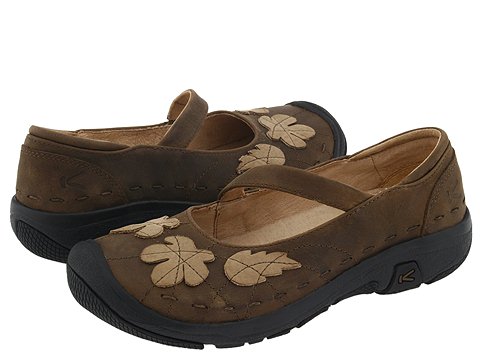 Listening
: To a bunch of 90's music I downloaded after watching VH1's "Top 100 songs of the 90's"
Watching
: My So-Called Life (yes I totally got the series DVD set for Christmas! Thanks Cody!!)
Reading
: A book my sister loaned me....but I can't remember the name of it.
Stressing
: About all of the cleaning my house needs.
Pondering
: How there is no one I want to vote for in this election......hmmm
Internetting
:
The Daily Coyote
. This blog is amazing. It's a girl in WY who is 'raising' a coyote she found as a baby puppy, and has been documenting it's life. Who knew they were cute?!
So there you have it. Oh my! I just totally realized tomorrow is our 'house-iversary' and we have been here exactly 4 years!~! Crazy. Time flies.
---